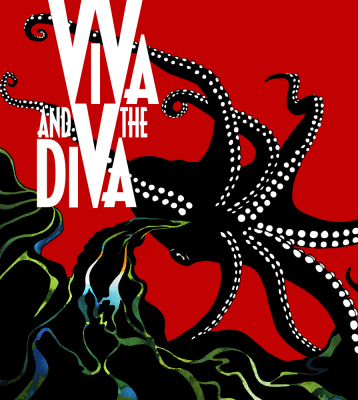 Le bulldozer scénique !
Découvrez le clip de « Maria Magdalena »
EP digital 5 titres, disponible sur toutes les plateformes…
Membres du groupe : Maxime Delpierre / Sir Alice / Arnaud Roulin
Pour une création lors d'une carte blanche à Sonic Youth pour Jazz à la villette, Maxime Delpierre (Joakim, Louis Sclavis) rassemble Sir Alice, Arnaud Roulin (Poni Hoax, Paris), Mark Kerr (Rita Mitsouko) et crée Viva & The Diva. Une batterie tribale, entouré de MPC et autres rythmiques synthétiques, un synthé basse enivrant, des mélodies de claviers et de guitares obsédantes et sous les airs d'une Ingrid Caven, une voix androgyne, comme arraché par le diable, murmure, envoûte et scande, les mots de ce rock and roll de science fiction. Entre balade synthétique et hip hop métallique, le casting se transforme en bulldozer scénique et Viva & the Diva assure la première partie de Throbbing Gristle avec Pansonic pour son deuxième concert.
Viva and the Diva : Les experts – Article Télérama le 25 aout 2010
On appelle ça un super groupe : la réunion de gâchettes expérimentées – dont le batteur des Rita Mitsouko ou le clavier des Poni Hoax – autour d'un projet musical commun. Formée en 2007 à l'occasion d'une carte blanche à Sonic Youth, à la Vilette, cette équipée sauvage a pris son temps pour aiguiser son style sombre et décadent.On y retrouve bien sur un peu de l'élégance sexy du groupe de Kim Gordon, des plongées krautrock entêtantes, la noirceur maladive de Siouxsie et de Joy Division, le tout boosté par une rhytmique martiale. « On pourrait dire que c'est du Kraftwerk appliqué à un groupe de rock » explique Maxime Delpierre, guitariste protéiforme déjà à l'oeuvre chez Limousine ou Joakim. Bruitiste, tribal et hypnotique, le répertoire de ces experts refuse la facilité, mais pas l'évidence mélodique : « On n'a pas envie d'être un groupe d'érudits enfermés dans la démonstration. » Résultat : beaucoup d'éxigence, des années de métier, une présence folle et des titres imparables. A suivre de très près.
Devise : « Viva and the Diva, c'est la voix d'AC/DC et le fils d'Eric Clapton' a dit un jour un fan avant de se faire tatouer notre nom sur la fesse. On en rit encore »
A voir pour : Sir Alice, fascinante bête de scène à la voix androgyne, qui fait passer Peaches et Courtney Love pour les Demoiselles de Rochefort
Olivier Granoux