après avoir été en charge du développement d'un certain nombres d'artistes chez Epic / Sony Music de 1996 à 2005, j'ai lancé ma société d'édition et de management le 23 Février 2006.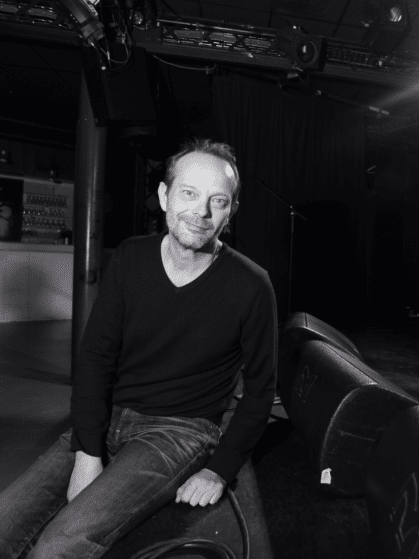 Epic /
Sony
Développement
Korn, Pleymo, Rage Against The Machine, Pearl Jam, Thiéfaine, Incubus, Good Charlotte, Evanescence, AC/DC, Screaming Trees, Vernon, Reid, Finley Quaye, Jimmie Vaughan, Elista, Jeff Beck, Joe Satriani, Steve Vai, G3, Ghostface killah, Mister Gang, Infectious Groove, Marah, Audioslave, G Love & Special Sauce, Black Sabbath & Ozzy Osbourne, Social Distorsion, Boy Hits Car, Killing Joke, Satchel, Keb'Mo, Headswim, Stretch Princess, Simsalabim, Handsome, Tower Of Power, Phantom Planet, Sevendust, Amanda Marshall, Chantal Kreviazuk, Steve Earle, Rickie Lee Jones, Tenacious D, Our Lady Peace, The Mayfield Four, Judas Priest, Alterbridge, Mundy, Prong, Boy Sets Fire, Spin Doctors, Life Of Agony, Three Fish, Creed, Ben Folds Five, Tipper, Modest Mouse, Save Ferris, Seether, Pascal Obispo, Spooks, Boomfunk MC's, Teddybears STHLM…
Les airs à
Vif
Développement / Edition
Pony Pony Run Run : Victoire de la musique en 2010, 150.000 albums vendus avec le tube « Hey You », 40K diffusions en radio en France, 1 milliard de contacts, 15 millions de streams, leur propre Zénith de Paris le 12 Novembre 2011
Carpenter Brut : Artiste français autoproducteur d'Electro tourné vers l'international. Turbo Killer, le clip 13 Millions de vues., mis en TV sur M6, MTV France, MTV UK & MTV Germany. Tournée US avec Ghost.> Albums : Trilogy, CarpenterBrutLive, Leather Teeth, Blood Machines OST. Leather Terror.Plus de 300 millions de streams. Multiples synchros jeux video USA.  Leather Terror Tour 2022
SIERRA : Dark Synth FR. En première partie de la tournée mondiale de Carpenter Brut
Howard : Organ(ic) Stoner rock. Nouvel album octobre 2022
Edgär : (Editions & management) Duo electro-pop-rock Amiens. Plus de 3 millions de streams avec le titre « Two Trees ». 30 passages M6 pour « Two Trees » & « Heaven Tricks ». Nouveau single : « The Lights »
Uncut : Classic Rock / Poitiers. Premier clip « Blue Eyes Lover. Premier EP « From Blue » disponible. Premier album rentrée 2020.
I Me Mine : Pop Rock Toulouse. Nouvel album « Ellipsis ». « Expectations feat. General Elektriks » 1,9 Millions de streams.
Guilhem Desq : Le prodige de la vielle électrique à roue. 50 k abonnés sur Youtube. « Omen » 3,5 millions de vues sur Youtube. Premier album « Visions »
Rainh : nouveau projet electro. Premier clip ( de ouf) « Amor Fati »
Metro Verlaine : (Editions & management) Post Punk/ Evreux. Premier album « Cut Up ». Nouvel album « Funeral Party » disponible
Andy Balcon : Projet solo du chanteur d'Heymoonshaker. 2 EP : Kiss Goodnight & Who Am I ?
Heymoonshaker : Duo anglais « Beatbox- Rock » qui fait 100 concerts par an dans 14 pays. 35 millions de vues sur Youtube, en tournée chez A gauche de la lune, Cigale au Mama Festival en octobre 2015, au Printemps de Bourges le 14 avril 2016. Après un premier album autoproduit, ils ont été signés par le label Dify Records pour leur album « Noir » sorti en octobre 2015, tournée Europe 2016.
Archimède :(Editions & management) 3 albums chez Sony Music : Nomination aux victoires de la musique en 2010, une chanson composée sur l'album de Johnny Hallyday « L'attente » en 2012, 15 zéniths avec Thiéfaine, 10 Zéniths avec Bénabar, 4 dates avec Johnny Hallyday dont les Arènes de Nîmes…