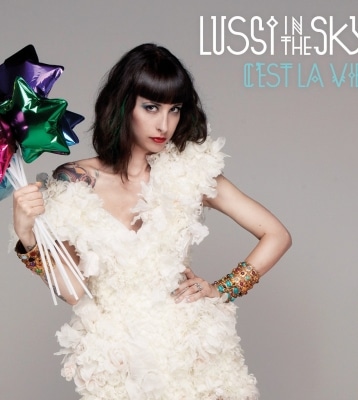 Lussi in the sky, prend son envol en 2008 quand elle rencontre Benjamin Delacroix (batteur et co-compositeur). Premières chansons et premiers concerts en duo.
En 2009, alors choriste/guitariste sur le Love Tour d'Anaïs, Lussi profite des creux de la tournée pour composer. Anaïs découvre par hasard le projet et propose à Lussi de faire la première partie de ses shows. Ca ne rate pas : sa voix exceptionnelle fera mouche à chaque fois.
Lussi in the sky profite de l'impulsion et part alors sur les routes de France jouer dans des petits lieux indépendants où elle remplira de couleurs vives et de sons électriques les yeux et les oreilles d'un public grandissant.
En 2010 Lussi participe au télé-crochet « Nouvelle Star » où après des prestations qualifiées de «spectaculaires et époustouflantes» elle sort quatrième du Pavillon Baltard. Ne s'accordant aucun répit, elle travaille alors activement sur ses chansons. Eddy Lagooyatsh rejoint Lussi et Benjamin sur scène et le trio sillonne les routes de France pour aller au contact du public.
Le 23 mai 2011, le premier EP totalement auto-produit de Lussi in the sky débarque sur les plateformes de téléchargement. A peine sorti, le disque cartonne déjà sur iTunes et atteint la 1ère place dans le classement variété française, ainsi que la 8ème place du classement total !
Après un passage remarqué aux Francofolies de La Rochelle et une signature chez F2F Music pour le booking, elle s'empresse de partir en tournée pour présenter son nouveau spectacle où on retrouve l'univers tout particulier de Lussi in the sky : fun, pop 80′s mais aussi désinvolte et rock n'roll.
Après une bonne cinquantaine de concerts en France et plus largement en Europe jusque fin 2012, il est temps de retourner en studio pour le 1er album de Lussi in the sky !
Mettez le son à fond et à très vite !